S3E11 -Changing the Narrative Live Discussion with Jazz Legend Stanley Clarke and Mutual Aid leader Stephanie Rearick
Detroit is Different episode 245
17 days ago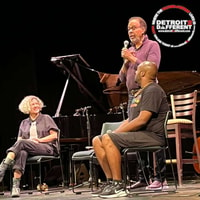 Detroit is Different supporter Kim Sherobbi invited me to co-host a discussion held at Marygrove College Sunday, July 24. Jazz icon Stanley Clarke performed and spoke in support of his son Frank for the How We Will Change conference hosted in Detroit this past weekend. I hosted this discussion with my podcast network partner in creativity Piper Carter. Stephanie Rearick also performed her interactive blend of folk music and spoke about her commitment to Mutual Aid work. The discussion was impactful. Talking points from Detroit Jazz great Ralphe Armstrong and founder of B More Radio Dennis Talbert are also shared.
Detroit is Different is a podcast hosted by Khary Frazier covering people adding to the culture of an American Classic city. Visit www.detroitisdifferent.com to hear, see and experience more of what makes Detroit different.
Follow, like, share, and subscribe to the Podcast on iTunes, Google Play, and Sticher.
Comment, suggest, and connect with the podcast by emailing [email protected]
Find out more at https://detroit-is-different.pinecast.co
Send us your feedback online: https://pinecast.com/feedback/detroit-is-different/ffd2502b-dc5e-4a8d-8a62-8be9132a335e