Stefany Washington
Detroit is Different episode 207
1 month ago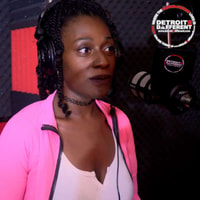 Stefany Washington is a self-proclaimed "whole vibe" and interviewing her was a joyous experience. Frustrated with the city's approach to economic development, this local Detroiter decided to do something about it. Not only did she put in her bid as a mayoral candidate, but she has also been helping community members understand the ins and outs of home improvement, homeownership, and navigating policy jargon. Along with Steffany's community efforts, she also discusses her goals to change the narrative around professional dress for female millennials and create a safe space for women to confront important issues affecting their mental and physical health.
Detroit is Different is a podcast hosted by Khary Frazier covering people adding to the culture of an American Classic city. Visit www.detroitisdifferent.com to hear, see and experience more of what makes Detroit different.
Follow, like, share, and subscribe to the Podcast on iTunes, Google Play, and Sticher.
Comment, suggest and connect with the podcast by emailing [email protected]
Find out more at https://detroit-is-different.pinecast.co