Charlie Beckham: Detroit's Black History is American History
Detroit is Different podcast episode 208
6 months ago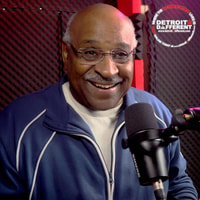 The original interview with Charlie Beckham was fun, engaging, and eye-opening. Today he is back to talk more about his life story. The one-man stage play is now a film shown on Thursday, November 11, 2021, at 7 pm at the Charles H Wright Museum. His story opens up about the targeting of leaders and public officials under a microscope from the FBI. This interview explores in more detail the roles public officials play in Detroit politics. This is another piece of the puzzle into the wit, character, and savvy of being smart while honoring public service. Charlie Beckham is a Detroit signature in 6 Mayoral administrations, and one of the best Detroit is Different interviews.
Detroit is Different is a podcast hosted by Khary Frazier covering people adding to the culture of an American Classic city. Visit www.detroitisdifferent.com to hear, see and experience more of what makes Detroit different.
Follow, like, share, and subscribe to the Podcast on iTunes, Google Play, and Sticher.
Comment, suggest and connect with the podcast by emailing [email protected]
Find out more at https://detroit-is-different.pinecast.co