S5E14 -How Black Women see themselves from the Bible's Perspective in the Art of Poetry and Sculpture, with Scheherazade W Parrish
Detroit is Different episode 319
2 months ago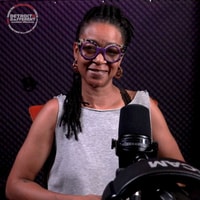 In this episode of "Detroit is Different," the spotlight is on Scheherazade Washington Parrish, a multi-talented individual with a diverse background in writing, art, psychology, and community engagement. Scheherazade's artistic journey is deeply rooted in her exploration of various forms of expression, from personal narratives to formal verse. She skillfully deconstructs complex societal, personal, and political themes, especially focusing on concepts of duty and family.
Having pursued psychology at Wayne State University, Scheherazade brings a unique perspective to her creative endeavors. Currently serving as a program manager with Allied Media Projects in Detroit, she continues to inspire and engage the community through her work.
Scheherazade's contributions extend beyond the confines of traditional publications. Her work has found its way into journals, and anthologies like "The Detroit Neighborhood Guidebook," as well as large-scale visual art installations and murals. In this interview, she delves into her creative process, discussing the interplay between form and content in her pieces, a theme highlighted in her intriguing project titled "Tools of Redaction: Form." Tune in to gain insights into the mind of this prolific writer, artist, moderator, and muse, as she shares her passion for storytelling and her unique perspective on Detroit's vibrant cultural landscape.
Detroit is Different is a podcast hosted by Khary Frazier covering people adding to the culture of an American Classic city. Visit www.detroitisdifferent.com to hear, see and experience more of what makes Detroit different.
Follow, like, share, and subscribe to the Podcast on iTunes, Google Play, and Sticher.
Comment, suggest and connect with the podcast by emailing [email protected]
Find out more at https://detroit-is-different.pinecast.co
Send us your feedback online: https://pinecast.com/feedback/detroit-is-different/f748f483-539a-4554-bb42-e127ee109b11