S3E23 -Science, Arts, and Family are all explored by Raenita Glover
Detroit is Different episode 256
3 months ago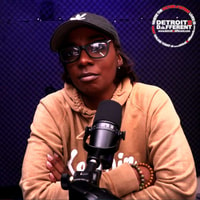 Rae is a creative that dives in and out of many disciplines. Rae is a Detroit Eastsider that lived throughout the Eastside as a child. In this interview, Rae opens up about family and how from Georgia to Detroit's Eastside was a gateway for her roots. Experience the balance of family and life and why it impacts last generations. Rae shares her work with the Better Detroit Youth Movement and why it was important for her to mentor, learn from and engage young people. For over a decade now Better Detroit Youth Movement has provided outlets for art and access to opportunity for young people.  
Detroit is Different is a podcast hosted by Khary Frazier covering people adding to the culture of an American Classic city. Visit www.detroitisdifferent.com to hear, see and experience more of what makes Detroit different.
Follow, like, share, and subscribe to the Podcast on iTunes, Google Play, and Sticher.
Comment, suggest and connect with the podcast by emailing [email protected]
Find out more at https://detroit-is-different.pinecast.co
Send us your feedback online: https://pinecast.com/feedback/detroit-is-different/f079bbdb-c399-457d-a878-04877623ceaf