T Barb: Laughing through a Quality Life
Detroit is Different podcast episode 209
1 year ago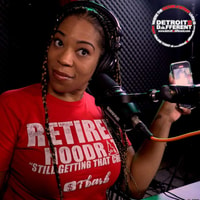 T Barb's laugh, smile, and joking style have been a beckon of light in tough times and a gateway for business opportunities. The lifelong Detroiter groomed in the Mackenzie neighborhood is now a national brand. The Vegan Chef, Author, Business Consultant, and Comedian are hats she wears, but her personality anchor her in many things. Learning about her journey through a rougher childhood connected her to becoming a social worker. See what an invitation to a comedy night connected her to a new passion and more. T Barb is a creative offering the feel, energy, and thought of making the irony of Detroit life into comedy.
Detroit is Different is a podcast hosted by Khary Frazier covering people adding to the culture of an American Classic city. Visit www.detroitisdifferent.com to hear, see and experience more of what makes Detroit different.
Follow, like, share, and subscribe to the Podcast on iTunes, Google Play, and Sticher.
Comment, suggest and connect with the podcast by emailing [email protected]
Find out more at https://detroit-is-different.pinecast.co