Yusef Bunchy Shakur on Collective Work and Responsibility
Detroit is Different podcast episode 216
6 months ago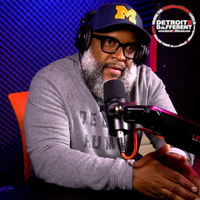 Yusef Bunchy Shakur joins Detroit is Different to talk about his upcoming State of Detroit address. Yusef Bunchy Shakur tells the story of how Henry Ford Hospital is gentrifying his neighborhood. Yusef shares how he has informed through hearsay that a closed meeting about the future of his community. Yusef walked into the meeting to witness an urban planner tell him his Mother's house will not exist in Henry Ford Hospital's plans. Yusef Bunchy Shakur tells the story of how his grandmother and kept morals, character, and integrity. The discussion moves on to share what role social capital plays in a Black neighborhood.
Detroit is Different is a podcast hosted by Khary Frazier covering people adding to the culture of an American Classic city. Visit www.detroitisdifferent.com to hear, see and experience more of what makes Detroit different.
Follow, like, share, and subscribe to the Podcast on iTunes, Google Play, and Sticher.
Comment, suggest and connect with the podcast by emailing [email protected]
Find out more at https://detroit-is-different.pinecast.co