Vaughn Arrington on Motivating past Incarceration
Detroit is Different Podcast episode 201
1 year ago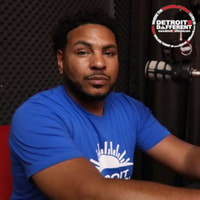 Episode Notes
Vaughn Arrington is memorable. The laugh, smile, inspirational perspective, and stories stand out. Vaughn opens up about his childhood and living in the 1980's Detroit as both his parents dove into the street economy. After serving a 10-year sentence starting at the age of 16 Vaughn returned to Detroit inspired. Today Vaughn's work with Detroit Public Schools, the President Biden campaign, and many more organizations and groups touches tens of thousands. Also, learn about the Human Flyer business and how the idea collaboratively from Khary Frazier and Vaughn Arrington has birthed a very successful business and brand.  
Detroit is Different is a podcast hosted by Khary Frazier covering people adding to the culture of an American Classic city. Visit www.detroitisdifferent.com to hear, see and experience more of what makes Detroit different.
Follow, like, share, and subscribe to the Podcast on iTunes, Google Play, and Sticher.
Comment, suggest and connect with the podcast by emailing [email protected]
Find out more at https://detroit-is-different.pinecast.co