S3E19 -Helping lead Detroit Public School Community District towards success against odds but with faith & vision, Angelique Peterson Mayberry
Detroit is Different podcast episode 253
5 months ago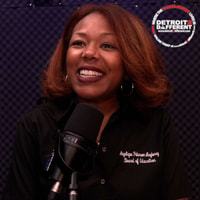 Vision, faith, and community anchor Angelique Peterson Mayberry. Detroit Public School Community District Board president (running for her second term currently) has worked tirelessly to ensure DPSCD is ready to fulfill students' dreams. Her work to empower students, teachers, parents, administrators, and community groups grew from the work ethic that committed her to Ford Motor Company and UAW. Madam President opens up about her son's organizing of a school walkout to further encourage her can-do spirit. Today DPSCD has more strides to make, but in the shadows of the pandemic, DPSCD is much more efficient than other media reports. Learn of her vision, responsibility, and passion for her position.
Detroit is Different is a podcast hosted by Khary Frazier covering people adding to the culture of an American Classic city. Visit www.detroitisdifferent.com to hear, see and experience more of what makes Detroit different.
Follow, like, share, and subscribe to the Podcast on iTunes, Google Play, and Sticher.
Comment, suggest and connect with the podcast by emailing [email protected]
Find out more at https://detroit-is-different.pinecast.co
Send us your feedback online: https://pinecast.com/feedback/detroit-is-different/df53d08c-dc73-4e84-8f19-b67afda250ca