Mike Willingham of Grind Ave
Detroit is Different podcast episode 213
5 months ago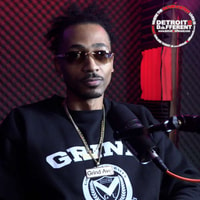 Design is the key to all art. Mike Willingham is an artist that has used design to guide a career, business, and opportunity. Michael Roze Artistry has a portfolio of jewelry, visual arts, clothing, and more. He joins Detroit is Different to discuss the impact of Cass Tech, his Father, visions, and plans for art, and more. This is an insight into how a designer thinks about art and more. Witness more of the art on Instagram at Grind Ave and RozeGoldJCO today.
Detroit is Different is a podcast hosted by Khary Frazier covering people adding to the culture of an American Classic city. Visit www.detroitisdifferent.com to hear, see and experience more of what makes Detroit different.
Follow, like, share, and subscribe to the Podcast on iTunes, Google Play, and Sticher.
Comment, suggest and connect with the podcast by emailing [email protected]
Find out more at https://detroit-is-different.pinecast.co