Are you in your Right s(h)elves? Sterling Toles MOCAD Exhibit
Detroit is Different episode 232
29 days ago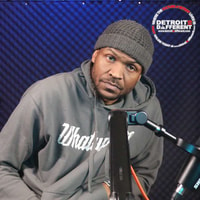 Sterling Toles key expression is love. Sterling's friendships and relationships are built on connecting people to his understanding of love. As a music producer, public speaker (when requested), DJ, and visual artist, Sterling's works make waves. His current visual art showing at the MOCAD is an exploration of how we identify ourselves through seeking external validation while lacking internal peace. The S(h)elf exhibit is showing in the white house space on the campus of MOCAD. The home welcomes you into the mind of Sterling's concepts on how we lack connection with others. The lack of connecting with others impacts how we love ourselves and best express who we are. There is a mix of paintings, display pieces, 3-D video work, and abstract interpretations. We discuss in depth how the showing came about and what his inspirations were for this show. Also learn about his peaceful approach toward creation. 
Detroit is Different is a podcast hosted by Khary Frazier covering people adding to the culture of an American Classic city. Visit www.detroitisdifferent.com to hear, see and experience more of what makes Detroit different.
Follow, like, share, and subscribe to the Podcast on iTunes, Google Play, and Sticher.
Comment, suggest and connect with the podcast by emailing [email protected]
Find out more at https://detroit-is-different.pinecast.co
Send us your feedback online: https://pinecast.com/feedback/detroit-is-different/c3ec3ff0-6f6c-4bb1-8b63-a76345e8472d