State of Black Detroit 2022
Detroit is Different podcast episode 217
5 months ago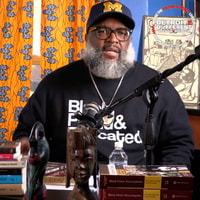 January 1, 2022, Yusef Bunchy Shakur delivered the State of Black Detroit 2022 Address and it was impactful. Initially, Yusef defined Black Detroit and its importance. The depth of the relationship between the Great Migration, legacies of revolutionaries, history of resilience, and the bonds between families were prominently addressed in Yusef's message. The interactive dynamic from Detroit is Different's live stream was a success as well. Rev. Teferi Brent, Brandon Jessup, Nadia Love, Prostell Thomas, Alfonso Pugh, and many others all joined in providing perspective and insight.
Detroit is Different is a podcast hosted by Khary Frazier covering people adding to the culture of an American Classic city. Visit www.detroitisdifferent.com to hear, see and experience more of what makes Detroit different.
Follow, like, share, and subscribe to the Podcast on iTunes, Google Play, and Sticher.
Comment, suggest and connect with the podcast by emailing [email protected]
Find out more at https://detroit-is-different.pinecast.co