Mayor Monique Owens is Dynamic, Driven, and Divine
Detroit is Different episode 233
1 year ago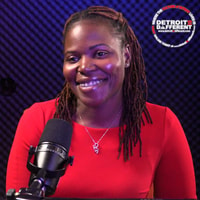 Mayor Monique Owens is dynamic, driven, and divine. For her, Detroit is Different interview Monique opened up how her love for East Coast Hip-hop and Church was a balance she found. This is the same energy that connects her as an Eastpointe resident turned Police Officer, Comedian, now Mayor, and candidate for State Senate. Monique Owens is what many identify as a trailblazer. Setting the standard high as an influential leader with poise, integrity, and historical determination, Monique Owens continues to show what excellence looks like. She was born in Detroit, Michigan, on February 21, 1984, and although she was considered gifted and inquisitive by her teachers, it was at the age of 34 years old when her historic journey began. Monique Owens was elected in 2017 as Eastpointe Michigan's first black councilwoman. In 2019, only two years into her term, she decided to run for mayor and became Eastpointe's first black woman and youngest mayor to hold office in Macomb County's history.
Detroit is Different is a podcast hosted by Khary Frazier covering people adding to the culture of an American Classic city. Visit www.detroitisdifferent.com to hear, see and experience more of what makes Detroit different.
Follow, like, share, and subscribe to the Podcast on iTunes, Google Play, and Sticher.
Comment, suggest and connect with the podcast by emailing [email protected]
Find out more at https://detroit-is-different.pinecast.co
Send us your feedback online: https://pinecast.com/feedback/detroit-is-different/b4e9d4ed-1ff3-4b82-b075-56434705146d