S3E6 -Putting in Work and getting Results, Director Kwende "Street Lord Rook" Ried
Detroit is Different Podcast episode 239
20 days ago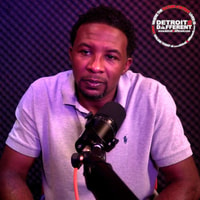 Independent films from Detroit have taken the industry by storm. The narratives of street life are being captured in live-action with the minds of Detroit's historic Hip-hop scene at the helm. Filmmaker Kwende "Steet Lord Rook" Ried, joined Detroit is Different to talk about his new feature 'Chedda Boys' premiering next Friday, June 24 at Bel Air Luxury Cinema (tickets on Eventbrite). We talk about the work of producing, directing, writing, and casting films. Rook shares his vision of reaching higher and higher goals. 
Detroit is Different is a podcast hosted by Khary Frazier covering people adding to the culture of an American Classic city. Visit www.detroitisdifferent.com to hear, see and experience more of what makes Detroit different.
Follow, like, share, and subscribe to the Podcast on iTunes, Google Play, and Sticher.
Comment, suggest and connect with the podcast by emailing [email protected]
Find out more at https://detroit-is-different.pinecast.co
Send us your feedback online: https://pinecast.com/feedback/detroit-is-different/b1d95357-571a-486b-b80c-2765cd9d4ff6