S3E15 -Photography in the Lux Experience and Luxe Collective with Brandi Young
Detroit is Different episode 249
8 days ago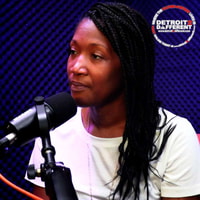 Brandi Young is the STEM student that added the A for STEAM. A Cass Tech graduate and proud Eastside Detroiter, her path to supported success began from parents instilling the values of hard work. Today Young leads the Lux Collection birthed from her work with Navy B Rae Photography. After graduating from Oakland University, she began work in project management in technology. Her artistic calling for photography brought her back to the hobby she loved as a child. Today her once hobby is a thriving business that has become an enterprise welcoming partners, clients, and a wealth of referrals. "We create an experience for you with no stress," Brandi Young describes the Lux experience. Learn about the vision of the Luxe Collective experience. Get the opportunity to offer the customer service immersive approach for your business with the Lux Collection. Check out the interview with Brandi Young and contact her directly on Instagram at @navybraephotography.
Detroit is Different is a podcast hosted by Khary Frazier covering people adding to the culture of an American Classic city. Visit www.detroitisdifferent.com to hear, see and experience more of what makes Detroit different.
Follow, like, share, and subscribe to the Podcast on iTunes, Google Play, and Sticher.
Comment, suggest and connect with the podcast by emailing [email protected]
Find out more at https://detroit-is-different.pinecast.co
Send us your feedback online: https://pinecast.com/feedback/detroit-is-different/a22fd8cf-d17b-4673-a882-93869504b039