Kinda Anderson Write-In Candidate for Detroit City Clerk
Detroit Election Content by Detroit is Different & Riverwise Magazine
1 year ago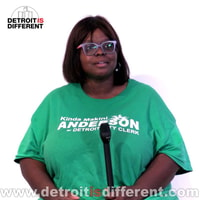 Episode Notes
Kinda Anderson Write-In Candidate for Detroit City Clerk. Riverwise Magazine & Detroit is Different 2021 Candidate Interview Series for Mayor of Detroit. This is a special election feature for the August 2021 Primary election for the City of Detroit. These interviews feature one-on-one question-and-answer content about Detroit public safety, water rights, property taxes, and visions for Detroit's future. Please share and enjoy the content of the people seeking office in Detroit.
Detroit is Different is a podcast hosted by Khary Frazier covering people adding to the culture of an American Classic city. Visit www.detroitisdifferent.com to hear, see and experience more of what makes Detroit different.
Follow, like, share, and subscribe to the Podcast on iTunes, Google Play, and Sticher.
Comment, suggest and connect with the podcast by emailing [email protected]
Find out more at https://detroit-is-different.pinecast.co