S3E2 -Engineering, Design, Rock, & Rap ... all Creativity by Volcano
Detroit is Different episode 235
1 month ago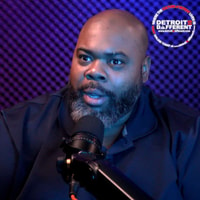 Engineering is a very creative discipline. Volcano's work to the masses for years was Hip-hop Artist & Rock & Roll Emcee. For over 15 years The Fillmore, CroFoot, The Emerald, are only a few venues in the area crushed by Volcano. As a recording engineer, rapper, music producer, and musician he's touched thousands. As an engineer and designer, he's changed the way we move in cars, planes, and even barbeque food. In this interview, we explore his family's roots from Mississippi to Detroit and the unique perspective of his family during America's Reconstruction era. Learn how Volcano has a niche in manual machining, 3d design, and building solutions to technical challenges. Check out how www.volcanicengineering.com is a staple and flagship for providing needed experience and knowledge for Black engineers. 
Detroit is Different is a podcast hosted by Khary Frazier covering people adding to the culture of an American Classic city. Visit www.detroitisdifferent.com to hear, see and experience more of what makes Detroit different.
Follow, like, share, and subscribe to the Podcast on iTunes, Google Play, and Sticher.
Comment, suggest and connect with the podcast by emailing [email protected]
Find out more at https://detroit-is-different.pinecast.co
Send us your feedback online: https://pinecast.com/feedback/detroit-is-different/98d39b24-3214-46df-baa2-0be68f926a8d