Why Vote Yes on Proposal P Detroit (Attorney Richard Mack)
Detroit is Different Podcast episode 202
1 year ago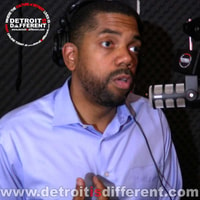 Episode Notes
Richard Mack is a lifelong Detroit that represents the people in what he does. Attorney Mack works on behalf of workers and labor rights against the greed and exploitive nature of business. Attorney Mack is also one of the elected Detroit City Charter Commissioners that has worked tirelessly with his colleagues to ensure Detroit has an equitable and progressive charter. He joined Detroit is Different to speak about the NEED to VOTE YES on Proposal P and much more. Mack unpacks the value of Proposal P and the process of getting it made. He also shares why the campaign against Proposal P is being led by corporate interest and not the people of Detroit. 
Detroit is Different is a podcast hosted by Khary Frazier covering people adding to the culture of an American Classic city. Visit www.detroitisdifferent.com to hear, see and experience more of what makes Detroit different.
Follow, like, share, and subscribe to the Podcast on iTunes, Google Play, and Sticher.
Comment, suggest and connect with the podcast by emailing [email protected]
Find out more at https://detroit-is-different.pinecast.co