S3E1 -Dunham Dance built up Mayowa Reynold's confidence as Pastor, Principal, and earn a Doctorate
Detroit is Different episode 234
15 days ago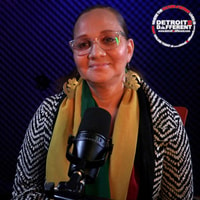 Doctor in Theology, Principal of the Detroit High School for Fine & Performing Arts, Pastor of Fellowship Chapel, and my BIG cousin are only some of the titles held by Mayowa Reynolds. Joining me for a second Detroit is Different interview we discuss the role of mentoring and teaching. Her passion as a child was sparked and flourished through dance. Mayowa is one of the few and proud formerly trained Katherine Dunham dancers. Her start honing a craft and talent in a competitively formal space has empowered her role reaching heights of success. Today her passion is to inspire others and empower their dreams. We discuss differences between students today and 'back in the day,' and so much more. This was a fun and colorful interview which will inspire you.
Detroit is Different is a podcast hosted by Khary Frazier covering people adding to the culture of an American Classic city. Visit www.detroitisdifferent.com to hear, see and experience more of what makes Detroit different.
Follow, like, share, and subscribe to the Podcast on iTunes, Google Play, and Sticher.
Comment, suggest and connect with the podcast by emailing [email protected]
Find out more at https://detroit-is-different.pinecast.co
Send us your feedback online: https://pinecast.com/feedback/detroit-is-different/7fa7dc66-8b42-44f2-9be2-16cb02c7dd3d