S3E3 -Detroit Diaspora Day Party with Drake Phifer
Detroit is Different episode 236
1 month ago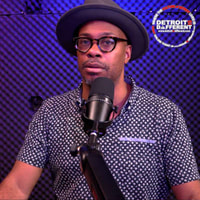 Urban Organic is the brand and it was a vision of Drake Phifer. The vision was a place and space for cool Soul and people to vibe together. In the early 2000's the space for Neo Soul, Afro Beat, House, and Future music from a Black lens was rare.
Today 20 years later the brand has traveled the Metro Detroit area, Michigan, the Nation and world alike. This weekend the brand carries the essence with Day Party is King. In its 4th Memorial Day Installation, the Detroit Diaspora Day Party returns to delight dance floor fanatics both near and far with DJ sets from: Marilyn Griffin | Griffin Gardens, Phifedom | Urban Organic, Diviniti | HoneyComb Music, DJ Vern English | The Tandem, DJ Righteous | D.R.U.M.M, DJ Duane Powell | SoundRotation – Chicago
The day will include: 5PM- 6PM - Diaspora Tribute Dinner Honoring Zana Smith of Spectacles Boutique and internationally renowned musician, Amp Fiddler prepared by Chef Nik R Cole of Fried Chicken and Caviar
Detroit is Different is a podcast hosted by Khary Frazier covering people adding to the culture of an American Classic city. Visit www.detroitisdifferent.com to hear, see and experience more of what makes Detroit different.
Follow, like, share, and subscribe to the Podcast on iTunes, Google Play, and Sticher.
Comment, suggest and connect with the podcast by emailing [email protected]
Find out more at https://detroit-is-different.pinecast.co
Send us your feedback online: https://pinecast.com/feedback/detroit-is-different/7f56d654-d533-4983-9439-e48787f41ee7