S4E34 -The Jokes on You, Comedy is Life for Mic Larry
Detroit is Different episode 301
6 months ago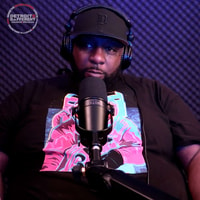 Comedy is a joke to many but for Mic Larry, it has been an inspiration, motivation, and purpose. From the Cooley neighborhood, the Redford Huskie basketball player was a gifted athlete from birth. Mic Larry's life has been a testimony to finding glory through storms. Learn his approach to utilizing time and taking advantage of the opportunity. Comedian Mic Larry opens up about starting from scratch and making a way in life again and again. Get introduced to one of the masters at the craft of comedy, Mic Larry.
Detroit is Different is a podcast hosted by Khary Frazier covering people adding to the culture of an American Classic city. Visit www.detroitisdifferent.com to hear, see and experience more of what makes Detroit different.
Follow, like, share, and subscribe to the Podcast on iTunes, Google Play, and Sticher.
Comment, suggest, and connect with the podcast by emailing [email protected]
Find out more at https://detroit-is-different.pinecast.co
Send us your feedback online: https://pinecast.com/feedback/detroit-is-different/74932b02-bd95-4ba7-ac57-190ad17ded17