S3E13 -Make-up in the Lux Experience and Luxe Collective with Shay Bailey
Detroit is Different episode 247
8 days ago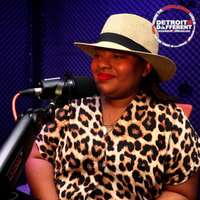 Oakland University brought together a friendship circle that is now a business group. Lux Collection offers a unique glamour experience for clients seeking an inclusive photography experience to capture photography that expresses personality, character, and style. Shay Bailey adds the touch of makeup to the glamour experience matching clients' personalities with her artistry. Bailey grew up embracing art and transitioned from canvas to faces and skin for her expression. Working years in corporate and freelance spaces, Bailey has captured some of Detroit's most iconic figures, and her touch has been seen by you before. Learn about the vision of the Luxe Collective experience. Get the opportunity to offer the customer service immersive approach for your business with the Lux Collection. Check out the interview with Shay Bailey and contact her directly on Instagram at @shaybbeautiful.
Detroit is Different is a podcast hosted by Khary Frazier covering people adding to the culture of an American Classic city. Visit www.detroitisdifferent.com to hear, see and experience more of what makes Detroit different.
Follow, like, share, and subscribe to the Podcast on iTunes, Google Play, and Sticher.
Comment, suggest and connect with the podcast by emailing [email protected]
Find out more at https://detroit-is-different.pinecast.co
Send us your feedback online: https://pinecast.com/feedback/detroit-is-different/6b55bf91-0f9d-4466-91ca-cb04f2f534c7