Deolis Allen III opens up about guiding the minds of Young Black Men navigating today
Detroit is Different episode 218
5 months ago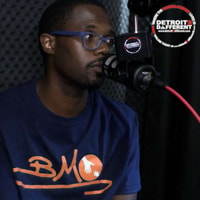 Michigan is a mid-western heartland welcoming people worldwide for beautiful Autumns, rich apples & cherries, and American tradition. The essence of the state through the lens of a Black Man magnifies the dual consciousness highlighted in literature by Ralph Ellison, Amiri Baraka, Richard Wright, Yusef Shakur, and many more. Deolis Allen III joined Detroit is Different to share his story giving an insightful perspective to this all. Allen was born in Ann Arbor as his parents finished their collegiate journeys at the University of Michigan. Allen's parents eventually settled in the Highland Park community to stand as a presence of intellect, value, and success inside a Black community. Allen opens up about Cass Tech, Eastern Michigan University, and the role of Black men in the community. He provides a grand historical overview of the relationship between young men and older men. A member, facilitator, and teacher of the Better Men Outreach program, Allen shares how basketball has been a key in developing relationships and instilling value into young Black men of Detroit.
Detroit is Different is a podcast hosted by Khary Frazier covering people adding to the culture of an American Classic city. Visit www.detroitisdifferent.com to hear, see and experience more of what makes Detroit different.
Follow, like, share, and subscribe to the Podcast on iTunes, Google Play, and Sticher.
Comment, suggest and connect with the podcast by emailing [email protected]
Find out more at https://detroit-is-different.pinecast.co