S4E10 -Mission, Vision, and Purpose aren't just words for Racheal Allen
Detroit is Different episode 277
4 months ago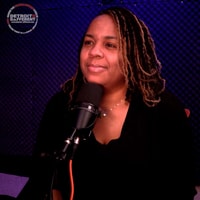 Mission, vision, and purpose are associated with organizational development. Racheal Allen has spent a lifetime re-entering herself around these concepts. Racheal's journey from Southern California to Detroit Eastside's Sojourner Truth homes is a start to a grand understanding of the Detroit Community. Racheal is a Margrove graduate and now works on the campus of Marygrove, bringing to life the business dreams of others. In this interview, her experience as a daughter, mother, manager, salesperson, wife, and creative are expressed in love. Learn so much more behind the mind of a woman advocating empowering Black women entrepreneurs through Operation School.
Detroit is Different is a podcast hosted by Khary Frazier covering people adding to the culture of an American Classic city. Visit www.detroitisdifferent.com to hear, see and experience more of what makes Detroit different.
Follow, like, share, and subscribe to the Podcast on iTunes, Google Play, and Sticher.
Comment, suggest and connect with the podcast by emailing [email protected]
Find out more at https://detroit-is-different.pinecast.co
Send us your feedback online: https://pinecast.com/feedback/detroit-is-different/3da942e6-ebfc-4080-9bf9-06d48c60d941