S4E12 -Curiosity of the Detroit Everything is what drives Daily Detroit and Jeremiah Staes
Detroit is Different episode 280
1 month ago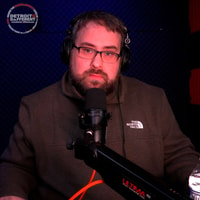 Gaining an understanding of Detroit culture has grounded Jeremiah Staes for a lifetime. Living a life in a majority Black populated and politically influenced city gives Jeremiah a different perspective on Metro Detroit. A Mother that passed at a young age and a Father that was a visual artist added to Jeremiah's connection to the city. Raised in the culture of Detroit's artisan class of the 80s and 90s impacted his belief in arts, his need for culture, and his love for the city. We discuss the start of Daily Detroit and how independent media is Different than traditional media. From years of experience working in TV news, he knows the depth of understanding that most Detroit news needs. The lens of race and class color all Detroit issues, and exploring them are imperative. In this interview, we talk about content. Why giving voice to Detroit stories is essential too. Check out the full Detroit is Different feature of Daily Detroit founder Jeremiah Staes.
Detroit is Different is a podcast hosted by Khary Frazier covering people adding to the culture of an American Classic city. Visit www.detroitisdifferent.com to hear, see and experience more of what makes Detroit different.
Follow, like, share, and subscribe to the Podcast on iTunes, Google Play, and Sticher.
Comment, suggest and connect with the podcast by emailing [email protected]
Find out more at https://detroit-is-different.pinecast.co
Send us your feedback online: https://pinecast.com/feedback/detroit-is-different/3cfac870-c8dd-4f66-a9ca-93f6884d64e2