S4E11 -The Sweet Spot of the Avenue of Fashions with April Anderson of Good Cakes and Bakes
Detroit is Different episode 279
4 months ago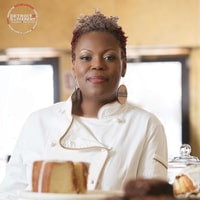 The Sweet Spot of the Avenue of Fashions is Good Cakes and Bakes. April Anderson loved baking sweets and witnessing people fall in love with her gift. After college, career, grad school, and marriage, she makes the entrepreneurial leap. Her story is about learning to develop quality sweets and business systems and enjoying the process. April's understanding of where she fits into her business is explored here. Many gems are shared about money, time, family, and balancing the self.
Detroit is Different is a podcast hosted by Khary Frazier covering people adding to the culture of an American Classic city. Visit www.detroitisdifferent.com to hear, see and experience more of what makes Detroit different.
Follow, like, share, and subscribe to the Podcast on iTunes, Google Play, and Sticher.
Comment, suggest and connect with the podcast by emailing [email protected]
Find out more at https://detroit-is-different.pinecast.co
Send us your feedback online: https://pinecast.com/feedback/detroit-is-different/383ea09c-ff98-418e-b097-14547c658f5c