S3E4 -Why do Detroiters feel unheard Today? with Orlando Bailey
Detroit is Different 237
1 month ago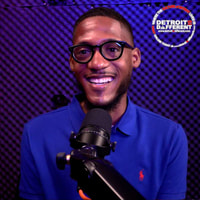 Detroit, and particularly Detroit's Eastside fills the mind, heart, imagination, and ambition of Orlando Bailey. A voice for the Authentically Detroit Podcast, host of the Urban Consulate community conversations, and journalist for Bridge Detroit Orlando speaks life to the history while embodying the present and future of the city. In this interview, we explore his roots in the community and why he was drawn back to Detroit from college. We also speak to the Tell Us Detroit Community Town Hall Series presented by Detroit is Different & Bridge Detroit hosted by myself (Khary Frazier) & Orlando Bailey. Learn our opinions on why we recognize the voiceless feeling many Detroiters have in media.
Detroit is Different is a podcast hosted by Khary Frazier covering people adding to the culture of an American Classic city. Visit www.detroitisdifferent.com to hear, see and experience more of what makes Detroit different.
Follow, like, share, and subscribe to the Podcast on iTunes, Google Play, and Sticher.
Comment, suggest and connect with the podcast by emailing [email protected]
Find out more at https://detroit-is-different.pinecast.co
Send us your feedback online: https://pinecast.com/feedback/detroit-is-different/37bcb46b-3379-42bf-bc75-7834a35ea873