S5E11 -Coco - From Nurse to Legendary Comedian | Life, Laughter, and Lessons
Detroit is Different episode 316
1 month ago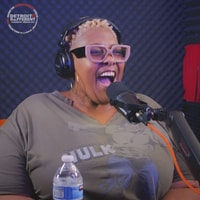 Get ready to dive into the captivating journey of the legendary comedian Coco as she sits down with host Khary Frazier on this exclusive Detroit is Different interview. In this episode, Coco takes us back to her roots, sharing anecdotes from her upbringing in Highland Park and her unexpected career path from nursing to comedy.
Nursing to Comedy: Coco's story is one of true inspiration. Discover how she transitioned from her role as a nurse to the world of stand-up comedy. Hear about the pivotal moments that led her to take the stage and embrace her natural gift for laughter, even in the face of personal grief and challenges.
A Journey of Resilience: Join us as Coco opens up about the emotional journey of losing her older sister and how that experience shaped her determination to succeed in the entertainment industry. Through her humor and authenticity, Coco teaches us valuable life lessons about resilience, finding joy, and turning adversity into strength.
Rise to Radio Fame: Learn about Coco's breakthrough on the WJLB morning show and how she made her mark on the airwaves. Discover the intriguing connection between Coco and Chris Gardner, the man behind the inspiring story of "The Pursuit of Happyness." Find out how Chris Gardner played a crucial role in negotiating Coco's first radio contract.
Laughter and Life Lessons: This interview is not just about comedy; it's a celebration of life. Tune in for a dose of hearty laughter as Coco shares hilarious anecdotes from her journey as a comedian. But it's not all about laughs—Coco imparts wisdom and life lessons garnered from her unique experiences.
Navigating Stardom and Relationships: Coco dishes on what it's like to date celebrities while being a celebrity herself. Gain insights into the world of fame, relationships, and the balancing act required to keep it real in the limelight.
Join us for an unforgettable conversation filled with laughter, inspiration, and wisdom. Coco's Detroit is Different interview is a testament to the power of pursuing one's passion, overcoming obstacles, and embracing the beauty of life's unexpected twists.
Don't miss out on this exclusive interview that offers a rare glimpse into the life of a true Detroit icon. Like, subscribe, and hit the notification bell to stay updated on all things Detroit is Different!
Detroit is Different is a podcast hosted by Khary Frazier covering people adding to the culture of an American Classic city. Visit www.detroitisdifferent.com to hear, see and experience more of what makes Detroit different.
Follow, like, share, and subscribe to the Podcast on iTunes, Google Play, and Sticher.
Comment, suggest and connect with the podcast by emailing [email protected]
Find out more at https://detroit-is-different.pinecast.co
Send us your feedback online: https://pinecast.com/feedback/detroit-is-different/37306c48-6ddc-47c5-8bf7-7a1c3dbbef39