S4E17 -How a Jam Session became a Collective to become the Organization getting Detroit Artists performing music on stages, the Story of D Cipher
Detroit is Different episode 285
3 months ago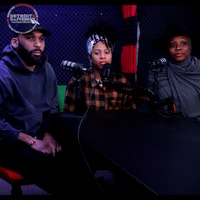 Jam sessions are a kinetic, eclectic, and improvisational expression of creativity. Juuni, Nique Love Rhodes, and Sophiyah E have expanded that energy into D Cipher. Juuni is a world-class drummer. Nique Love Rhodes is a band-leading emcee meshing live instruments and hip-hop. Sophiyah E is an expression of keys and mixed medium art. Together with (Allandra Bulger, aka Insite The Riot) created a mastermind collective of musicians, a non-profit advocating for music equity in Detroit and beyond. Juuni, Nique, and Sophiyah E sit down with Detroit is Different and open up about how, why, and what their work means to Detroit's musical performance artists. Learn how their roots connect to deeper culture across the diaspora into Haiti, Jamaica, New Orleans, and certainly Detroit's Joy Rd.
Detroit is Different is a podcast hosted by Khary Frazier covering people adding to the culture of an American Classic city. Visit www.detroitisdifferent.com to hear, see and experience more of what makes Detroit different.
Follow, like, share, and subscribe to the Podcast on iTunes, Google Play, and Sticher.
Comment, suggest and connect with the podcast by emailing [email protected]
Find out more at https://detroit-is-different.pinecast.co
Send us your feedback online: https://pinecast.com/feedback/detroit-is-different/3101c3b3-7d4a-46a3-90fe-75db1e390dec