S3E10 -Family, Community, Farming, and Black make up Erin Bevel
Detroit is Different episode 244
30 days ago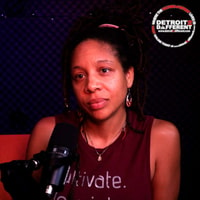 From the East Coast to Metro Detroit was the journey for a young Erin Bevel. Today the Howard University professor and law school graduate is driven by family and towards Black Liberation. Black Farmers Land Fund, Detroit Black Food Security Network, and Mollywop are creative, cultural, and professional works for Erin, but family is first. In this interview, we explore her work in Washington DC inside the capital and learn the inner workings of our government. Today Erin is an asset to Detroit's Grassroots Black Community. 
Detroit is Different is a podcast hosted by Khary Frazier covering people adding to the culture of an American Classic city. Visit www.detroitisdifferent.com to hear, see and experience more of what makes Detroit different.
Follow, like, share, and subscribe to the Podcast on iTunes, Google Play, and Sticher.
Comment, suggest and connect with the podcast by emailing [email protected]
Find out more at https://detroit-is-different.pinecast.co
Send us your feedback online: https://pinecast.com/feedback/detroit-is-different/276c74e8-768d-4017-b13e-8478b39d4759