Tennis courts, homework houses, vendors market for women, basketball court, all from Mam Shu's mind to Avalon Village
Detroit is Different episode 230
1 month ago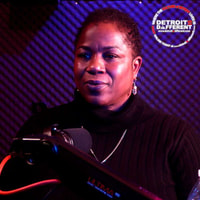 Buy the block is a phrase often spoken. Mama Shu was fulfilling this mission and purpose before the concept was trendy. Avalon street is a community that, in the mid to late 2000s, saw so much more attention and intentionality. During her many journeys, Mama Shu was drawn to the street owning and operating the Black Hole community space in unions and in partnership with others. Avalon started as a property she exclusively believed in and now welcomes tens of thousands annually to s actual space. Learn more of Mama Shu's background at Kettering HS, Alkebulan Village, Aisha Shule, and even working at the Belle Isle Big Boys. Mama Shu is a staple in her neighborhood and has a can-do spirit to meet and match the creativity, vision, and passions through providing access and opportunity. Mama Shu's willingness to dream big, think big, and act big has inspired many, many more (like myself) to engage the community. All this is through the lens of two sons tragically murdered, which pushes her through in spirit towards success. 
Detroit is Different is a podcast hosted by Khary Frazier covering people adding to the culture of an American Classic city. Visit www.detroitisdifferent.com to hear, see and experience more of what makes Detroit different.
Follow, like, share, and subscribe to the Podcast on iTunes, Google Play, and Sticher.
Comment, suggest and connect with the podcast by emailing [email protected]
Find out more at https://detroit-is-different.pinecast.co
Send us your feedback online: https://pinecast.com/feedback/detroit-is-different/1fd710aa-0edd-43f2-8bf4-dde00b8e8628