Shimekia Nichols shares how Green Justice, Family, Education, and Community Work is African-Centered
Detroit is Different episode 220
4 months ago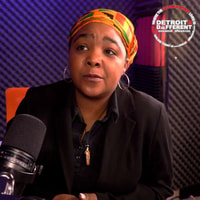 Living, working, and raising a family in Highland Park has committed Shimekia Nichols to a mission larger than just her own. The Executive Director of Souladarity has rich roots grounded from her family's background in Detroit's Southwest neighborhood 48217, known for being the most environmentally polluted zip code in Michigan. After that, in keeping pace with her creative, African-centered, and knowledge-seeking mother, Shimekia followed suit. An Aisha Shule & W.E.B. DuBois Preparatory Academy graduate Shimekia's African-centered orientation to the world is put to the test as she and her organization work to restore the streetlights that were repossessed by DTE Energy in 2011. In this interview, she shares stories of her experience at Aisha Shule, one of the first African-centered institutions in the state; and the instruction there assisting in her confidence and journey. Shimekia shares how traditional 9-5 work left her disinterested and unfulfilled. The void led her to volunteer at D Town Farms, Detroit Food Security Network, and We The People Detroit. Witnessing the unified effort, peopled pace and strategic brilliance of Baba Malik Yakini and Monica Lewis Patrick inspired the path Shimekia walks today. Today she leads Souladarity, a small but mighty non-profit housed in Highland Park that has become a locally and nationally recognized leader in energy democracy that aims to be a model of energy resilience and Just-transition toward clean and community-owned solar. This movement in red, black, and Green environmental justice is a journey she shares as a Black woman with the goal of liberating divested communities and empowering them to become self-determining and subject matter experts in the solutions that address their own needs. Shimekia remains humble as she provides an understanding and balances style when it comes to the Black community and the Green Justice movement.
Detroit is Different is a podcast hosted by Khary Frazier covering people adding to the culture of an American Classic city. Visit www.detroitisdifferent.com to hear, see and experience more of what makes Detroit different.
Follow, like, share, and subscribe to the Podcast on iTunes, Google Play, and Sticher.
Comment, suggest and connect with the podcast by emailing [email protected]
Find out more at https://detroit-is-different.pinecast.co