S3E16 -John Cloud shares his dynamic family background and how now his hip-hop is healing
Detroit is Different episode 250
5 months ago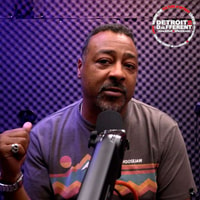 John Cloud is an emcee that has witnessed and participated in the origins of Detroit Hip-hop. His time in Home Grown, performing across the nation and region, shaped his understanding of performance. Currently, he is crafting the 'Black Cloud' album with producer Joe Black. The project is recorded at the Detroit is Different incubator and captures the essence of late 90's & 2000's hip-hop with lyricism & musicality. John Cloud opens up about his past on this project. For his Detroit is Different feature, Cloud shares the story of his family in Alabama, his family from Baltimore, and healing from witnessed trauma as a child. Watching the murder of his father at the age of seven is explored within the interview and album. John Cloud's story is interesting and certainly a glimpse into what makes Detroit Different!
Detroit is Different is a podcast hosted by Khary Frazier covering people adding to the culture of an American Classic city. Visit www.detroitisdifferent.com to hear, see and experience more of what makes Detroit different.
Follow, like, share, and subscribe to the Podcast on iTunes, Google Play, and Sticher.
Comment, suggest and connect with the podcast by emailing [email protected]
Find out more at https://detroit-is-different.pinecast.co
Send us your feedback online: https://pinecast.com/feedback/detroit-is-different/175e11be-1789-447e-857c-20b6cb343501