African Centered Family, Education, & Food are Jefani Edison's Orientation
Detroit is Different episode 219
4 months ago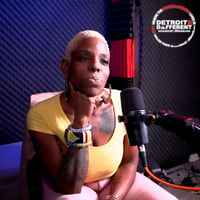 Faniz Bites is the brainchild of Jefani Edison. The daughter of one of Detroit's premier attorneys (Jeff Edison) has a business in meal prep, seasonings, and catering. Jefani opens up about her upbringing with parents centered in Pan-Africanism. Jefani talks about her love for Nataki Talibah and Howard University. Learn about her perspective on the similarities and differences between the chocolate city of Washington DC and Detroit. Jefani shares about her time working and managing LePetit Zinc as a Black woman operating a French restaurant in Detroit owned by a Black woman (Karima Sorel). Finally, Jefani talks about her business and how to connect with www.fanizbites.com and her seasonings. Get a better understanding of how she personalizes meals for diets, taste, people that don't cook, and people that can't cook.
Jefani Edison is the owner of www.fanizbites.com
Detroit is Different is a podcast hosted by Khary Frazier covering people adding to the culture of an American Classic city. Visit www.detroitisdifferent.com to hear, see and experience more of what makes Detroit different.
Follow, like, share, and subscribe to the Podcast on iTunes, Google Play, and Sticher.
Comment, suggest and connect with the podcast by emailing [email protected]
Find out more at https://detroit-is-different.pinecast.co